Amherstview Care & Cure
When you step into Amherstview Care & Cure, you get expert up-to-date advice and health care knowledge with personalized patient care.
Contact Us Today
Amherstview Care & Cure
Amherstview Care & Cure provides a selection of affordable health, beauty, and grocery items for the entire family.
Contact Us Today
Amherstview Care & Cure
At Amherstview Care & Cure we are dedicated to making healthy living easy!
Contact Us Today
Now offering regular potency flu shots for HIGH PRIORITY GROUPS ONLY, until the end of October.
Appointments are available
1. Individuals at high risk of influenza-related complications or who are more likely to require hospitalization:
All pregnant women
People who are residents of nursing homes or other chronic care facilities
People ≥ 65 years of age
Indigenous peoples
Adults or children 6 months of age and over with chronic health conditions as follows:
Cardiac or pulmonary disorders
Diabetes mellitus or other metabolic disease
Cancer
Conditions or medication which compromise the immune system (due to underlying disease, therapy or both)
Renal disease
Anemia or hemoglobinopathy
Neurologic or neurodevelopment conditions
Morbid obesity (body mass index of ≥ 40)
Children and adolescents (6 months to 18 years) undergoing treatment with acetylsalicylic acid for long periods
2. Individuals capable of transmitting influenza to those listed in #1 and/or to infants under 6 months of age:
Health care workers and other care providers in facilities and community settings
Household contacts (adults and children) of individuals at high risk of influenza related complications
Persons who provide care to children ≤ 4 years of age
Members of a household expecting a newborn during the influenza season
Those who provide services within a closed or relatively closed setting to persons at high risk (e.g., crew on a ship)
3. People who provide essential community services
4. Poultry industry workers
COVID-19 Vaccines Availability is determined by supply from Ontario government.
Appointments will be available once vaccines are received
How do I prepare for my COVID-19 vaccination appointment?
Screening
Print and complete the COVID-19 Vaccination Clinic Screening Questions. Bring your completed form to your appointment.
What to bring
Completed consent form
Health card or other government-issued photo ID such as a driver's license
Completed pre-screening form
Face covering
The day of your appointment
Wear a short-sleeved t-shirt.
Follow signage to "COVID vaccination reception" 
Do not arrive more than 10 minutes before your appointment. Wait in your vehicle or outside (maintain 2 metres of physical distance from others).
Clean your hands when you enter the building.
Practice physical distancing.
While waiting in line to register for your appointment, please take off your coat and have your ID and consent form ready.
Your Independent, Local Pharmacy
When you step into Amherstview Care & Cure, you get the best of both worlds: expert up-to-date advice and health care knowledge, coupled with personalized patient care from qualified pharmacists.
As an independently-owned and operated company, we pride ourselves on providing you and your family with the personal care and attention you've come to expect from a community pharmacy. It's a method that has served our customers well for over 100 years.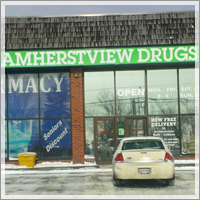 The friendly and professional team of pharmacists at Amherstview Care & Cure welcomes you to take advantage of the many wonderful services available at our pharmacy.
Free prescription delivery is available for your convenience!
Call 613-389-7301 or visit us at 4499 Bath Rd., Amherstview today.

What You Need is a Pharmacy Close to Home!